Pin
Element
Unit
1
Plate (Anode)
Triode
2
2
Control Grid
3
Cathode
4
Filament
5
Filament
6
Plate (Anode)
Triode
1
7
Control Grid
8
Cathode
9
Filament Center-Tap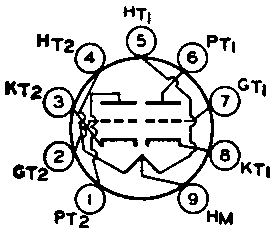 Miniature types used as phase
inverters or twin resistance-
coupled amplifiers. Each triode
unit is independent of the other
except for common heater.
Requires miniature 9-contact socket.